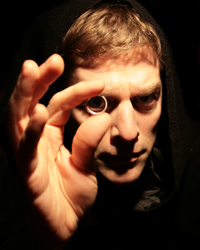 One Man Lord of the Rings
When
Occurs on Saturday May 7 2022
Approximate running time: 2 hours
Venue
Event Notes
×
If you liked Lord of the Rings, you'll love Charles Ross' version" - Sir Ian McKellen
One Man to do it all. One man to rule them all!
The extremely talented Canadian actor, Charles Ross, will stun you with One Man Lord of the Rings. Ross recreates the enchanting worldof Middle-Earth with nothing more than elbow pads and his outrageous imagination. Be prepared to journey through the trilogy: The Fellowship of the Ring, The Tower Towers, and Return of the King in 3600 seconds of unbelievable kinetic entertainment! Booming special effects, riveting stage fights, and harrowing rescues, the gifted performer does it all in this engaging and epic one man show. If you've already seen the movies, read the books, and named your first born Frodo, Ross' zany take on Lord of the Rings is right up your alley and sure to leave a lasting impression.
*The Lord of the Rings, and the characters, items, events, and places therein are trademarks or registered trademarks of The Saul Zaentz Company d/b/a Tolkein Enterprises. All rights are reserved.